---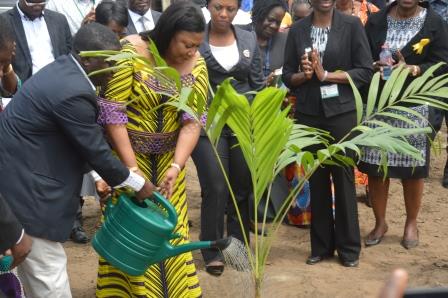 Management of Korle Bu Teaching Hospital (KBTH) has provided a plot of land to build a three-storey hostel to accommodate parents taking care of their children with cancer at the Hospital.

The hostel, estimated at GH¢2 million, is expected to accommodate 28 patients and their families when completed.

On the day to mark International Childhood Cancer day worldwide, the First lady of Ghana, Her Excellency Mrs. Rebecca Akufo-Addo with support of the Ag. CEO of KBTH, Dr Samuel Asiamah, broke the ground for construction works to begin.

Delivering her speech, the First lady said one of the problems that beset children with cancer was the lack of suitable accommodation for their parents and guardians who assist them while on admission.
She said once functional, the facility would bring relief to many parents and guardians who have had to travel from far for the treatment of their children. She therefore pledged her commitment to support the project and also accepted to become an ambassador for cancer.
Mrs. Akufo-Addo, however, called on the management of the Hospital to provide well-balanced diets for the children and their families while on admission.
She noted that as many of the children would live in the facility for several months for treatment, it was important that their educational needs were also met. She suggested that the new hostel should be a facility for teaching children who may stay there.
The Head of the Paediatric Oncology Unit, Professor Lorna Awo Renner, said very little was known about the causes of childhood cancers.
She noted that many types of cancers had the highest incidence in children at an early age, which suggested that causative factors operated before birth.
According to Prof. Renner, current data showed that 37 per cent of childhood cancer cases were mainly lymphomas, followed by leukaemia, eye cancers, kidney cancers, among others.
Presently, she said drugs for childhood cancers were not covered by the National Health Insurance Scheme (NHIS). She, therefore, urged that government looks at adding it to the Scheme as has been done for cervical and breast cancers.
The Chairman of Ghana Parents Association of Children with Cancer (GHAPACC), Dr Kwame Aveh, called for support from corporate bodies, organisations and philanthropists to help raise funds to build the hostel facility within the shortest possible time. The project will be funded by (GHAPACC) with support from philanthropic individuals and corporate bodies.